April 05, 2021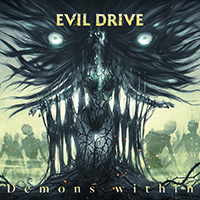 Steps, the ringing of the bell and the creak of the opening doors of the Church anticipates a vortex of the violent confession, which is a rush of repentance in the symphonic majesty of the Payback chorus. The rapid swirl of guitar solo continues Evil Drive - Demons Within with the Breaking The Chains song's music by offering majestic emotions with vocals chorus on banners. The Demons Within title track marching in a confident battle march of an epic hymn, enchanting melodious omissions legends about heroes in the chorus and accession. The bent waves of the Rising From The Revenge battle march, combined with the rapidness of the unrestrained drive, the commander calls on the fighters of its division to any trials. After the stubborn guitar solo, the We Are One vocals returns to the origins of the genre, the nervous hurricane of violent chance, accused by ribbons of melodic restraint. Energy is torn by the irrepressible stream of the desire to all new and new adventures, combined in unrestrained freedom and demonmic gruning of the Too Wild To Live, Too Rare To Die song's singing lady.
Extreme female vocals adds to his batch of notes of emotional screaming, which increases the significance of the sound of the Lords Of Chaos composition, sometimes rising in the rapid swirl of the instrumental solo solo. The vocal party goes to the forefront of the Bringer Of Darkness twilight fairy tale, inspiring the listener with the union of the epic charm and the metal drive.
Tunes of clean male vocals begin with romantic headings of the In The End composition, which then complements the demonic female growling in a kind of ballad. The Ghost Dimension completes the album by the syllable and irresistible bold drive and brightly fascinating melody combined in dance with fierce female growling.