March 22, 2016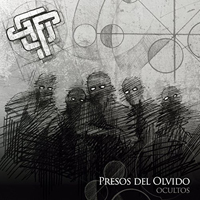 One band has told tales of a thousand lakes - and if they had to repeat it in 1500 Noches and 1500 Dias? Not in Karelia but here Presos Del Olvido - Ocultos.
Buzzing intro, crushes everything intro rhythm of Abandonado fall short on killer track - march with a ragged rhythm and harshed vocals.
Dancing lights in the swamp - twinkling, the eyes of rabid animals - are the same. And what is there - dancing The Shimmering lights! Tristeza ample powerful sound filled with oriental motifs and strong support of the rhythm section.
The viscous, stringy vocals in the Convulsion glue a quite fragmented accompaniment. Intro of Galaxia like magic and distant sounds, followed by a guitar and some distant samples. Later, it is joined by dreamy vocals.
Malicious, aggressive entry ... then scattered rhythm. That's Entre El Coral. Rhythm simmering in their dances and dreamy vocals tells a story with guitar sparkles.
A nagging guitar with dance of the rhythm, and there's vocals - and the guitar, and the rhythm calm out in Quiza No.
In Ethon ballad singer dreams of future accomplishments, but then the instruments come to life ... not for long: the singer is dreaming again.
What do the symbols mean? That's El Ultimo Simbolo and it can means all...or nothing? We listen and try to make sense of it!
The river of Cumulo Nimbo floats rhythmically and evenly, without too noticeable acceleration and deceleration.
Title track Ocultos completes album. Begins like a lyrical ballad and ravishing ballad poetry surrounds you throughout its length.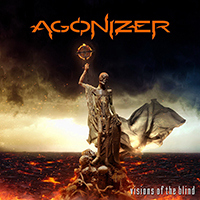 A lively, rhythmic entry in All Alone opens Agonizer - Visions Of The Blind for all of us.
Snatch-rhythm begins Devil's tells about all around and what he did to all around. His story, first slowly, then faster. Then - again slowly.
Fast song with modulations of guitars - can break everything to Pieces.
Lyrical ballad with accustic guitar, interspersed with flute without drumms - that's Haze.
Sliced begins like more hard ballad, then accelerates to mid-tempo. But still - the story interrogative to all around: what can I do ?!
Melodic, slow start - but then the police sirens hint - must felling angrier! Eye Of The Storm - otherwise it doesn't work!
The entry of the Trail sounds like - "Top, top-top, top, top-top!" Squad marches, walks somewhere. Confidently steps - reaches the final point of their march! Mysterious sounds suggest the gloomy expectations - that's Hazard intro! Then follows the story of these dark and mysterious phenomena.
Oppressive rhythm at the beginning of Lullacry further transformed into a something melodic, which changes the pace and rolled from one rhythm to another.
Lyrical ballad Thorns Of Roses draws its melodic flow into clouds of dreams and dreams of wonderfull miracles.
A Lie - "story has been told", as the vocalist signs. This mid-tempo drive track awakens all who was claimed on dream clouds by the previous ballad.
Fast Trooper quickly marches to his warfare deeds. Fast paced, shoot accurately - live longer.
From start of Nothing Changed deplorable monologue, tells sad story, until a swarm of furious instruments did not support his frustration with their mighty sounds. But they can't change anything - because Nothing Changed!