July 29, 2018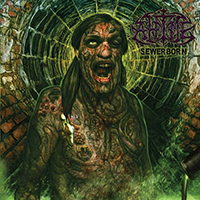 The L.O.S. introduction pushes a mysterious fog, enveloping the twilight and obscure ghosts of the background, then the vocal introduces an emotional color enveloped in dense and harsh guitar parts and fuses together progressive melodies and hard metal drive in the begining of Ahtme - Sewer Born album.
Subservient pushes the pressure and stubborn pressure of violent musical vortices, enveloping vocal phrases dense cocoon of memorable and diverse melodies, through which the vocal can not break, despite all the efforts.
Driving mid-tempo waves into the intro Dig merges these rhythmic sighs with the impetuous impulses of the previous composition - forming an unknown hitherto sound. The instrumental bridge converts the sound into a mid-tempo march, combining an incredibly progressive lace of changeable rhythm with thoughtful vocal reflections.
The wolves' howls, the shaman stuffs ritual rhythms into the tambourine, the acoustic strings are combined with the tunes of the flute on the Sea Of Sand background - then the Summoning Shiba vocals and guitars add significance and majestic sound, rolling out epic motifs on the musical canvas artistically and effectively.
The grand motive for the introduction begins The Stench Of Farooq with heraldic march, supplementing the sound with more and more new shades - as if a ritual celebration increases the majesty and significance. Vocals increase the tempo and sway the waves of the gloomy drive, preserving the inspired melody, but the guitars build up a pulsating nervousness, weaving many variations together in a vivid instrumental festival enveloping volatile vocal phrases. Completing the majestic hymn 9 2 5 compacts the sound, concentrating a dense and severe drive in a tough mid-tempo action movie, sometimes turning into focused meditative reflections, preserving a concentrated attentive atmosphere.
Swift To Exist race pushes a violent wave of drive, instrumental passages are trying to catch up and overtake vocal phrases, raising a bright guitar solo in the instrumental part. After swift passages, the vocal pacifies zeal, concentrating in wise Contort And Control thoughts, music wraps these phrases with various progressive laces, weaving them in unique patterns. The vocal raises some phrases clean, but returns to a deep and severe growling.
Thickening the mystical twilight in the impenetrable fog, the Possession Obsession verse envelops the vocal phrases with dark covers, in the bridge they prepare the possibilities to escape from the fettering fetters - but the instrumental bridge before the next verse again carries hopes away. However, the refrain brings hope and experience to a new level, concentrating on the warlock's pride.
Despite the title, the name of the album is again and again emphasized in the Subhuman Remains chorus - that is why it fully acts as the title track of the album. Perhaps, the most rhythmic and driving composition completes the creation successfully and quite impressively.