March 25, 2016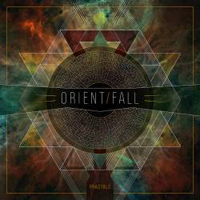 The mysterious beginning of the Orient Fall - Fractals indicates - it's not clear what it generally is?! First Dimension - Malthusian Protocol track in adagio tempo, supports by otherworldly keyboards - it only fuels the interest about "what will be further?!" New Ark this interest is not reassuring, but only stirs up even more - only melodious ending with pulsatin' drumkit 2 which a lot of worth!
1989 only numbers, cantillation over uneven rhythm, bass solo near the end, vocal changes - to growl and back, continuous rebirth.
Jazz band goes to jam? Noup - that's Second Dimension - A Controversial Fracture, improvisation by bass flows through track freely and fully. Jazz is for old people? Obtain tech-death and sign in Alpha Centauri Bb. True technical start initially slipping to the pitchy rate, then to drive and rumble, and pacin' back again to adagio.
Ascend To The Throne ballad intro accelerates a bit after melodic start, but something like shackles - force to stay at a slow pace till the end. An intriguing mysterious beginning in Le Grande Armee (An Inward Warfare), main melody like leitmotif runs through the entire composition, sometimes in the background, sometimes ahead. But always heard!
Two measurements were held - let's do that third time Third Dimension - Windfall Diagnosis, instrumental song with ending phrase "It depends on you".
In Silhouette wo vocal are competing constantly. No way reveal the winner - decide for them! After all intelligent competition - dances, carnivals by I, Punk. Fast! Beginning with the ragged pace and shimmering guitar in Two Wolves. Ragged, choppy start of What Is Past Is Prologue in the middle gain brighter color because of female voice, acceding after a melodic bridge before the guitar solo.
The first time measured - was measured dimension, the second - was example dimension, the third - was proportioned dimension. And now - Infinite Dimension - The Glacial Havoc mysterious, mystical instrumental track, played like a fairy hit empty bottles time to time.