October 23, 2016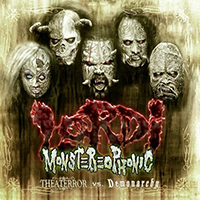 Elections! People and parties - get ready to take Lordi - Monstereophonic (Theaterror vs. Demonarchy) rules and orders!
Restrained, garbled whisper Scg8: One Message Waiting begins this story. Soaring in a remote area, wrapped in dreams and reveries keyboard passages starts Let's Go Slaughter He-Man (I Wanna Be the Beast-Man in the Masters of the Universe) continuing in the future to maintain control over the development of the composition remaining on the first cast the main motive.
Hard rhythmic motif carries over to its irresistible drive, it wants to Hug You Hardcore! In a clear rhythm drives the leitmotif of this idea, leaving no doubt - it will be so!
Gloomy motive Down with the Devil terrifying with expectations of impending doom of losing all that is holy. But in the gloomy darkness has its charms - gentle and lyrical keyboards, extolling the darkness and sins to the beautiful wonders.
Lyrical and romantic ballad Mary Is Dead chants all these delights in bright impressions of other points of view.
Sick Flick enriches the musical palette of bright and vibrant shades, cheerfully advancing to the epic instrumental part in the middle.
None for One combines in its diverse tunes simple and rhythmic guitar riffs with exalted keyboards inclusions, which takes us in transcendental distances.
Bell chimes and gentle notes of a ghostly piano present us SCG VIII: Opening Scene. Immediately violently and persistently releases melodic vortices and guitar fury to demonstrate Demonarchy to all of us. Vocal phrases complement the confident and domineering shades of musical excellence.
Begins pretentious and pathetic extolling this "brave demonarchy" system over all others, it is in the The Unholy Gathering epic ballad. In the same spirit exalts and deifies, in the middle of speeding up for a sharp and emotional outburst, but ends in the same pretentious manner.
Heaven Sent Hell on Earth starts briskly and smartly, with vocal entry slows his pace for a while, then re-accelerated to a stunning vocal activity and fury.
Voluptuous intro starts mystical ritual with ragged rhythm to anticipate the sacrament... they summon something incomprehensible... And the Zombie Says! Varied music sovetayu a variety of motifs and vocal styles are combined in unexpected forms. Zombies are they - clearly can't say!
Delicate sensual chimes of exalted keyboards passages begins the Break of Dawn. Then the guitar riffs hardens and saturates music with their ardor, varying the rhythm and tempo until the gentle and tender instrumental part with calm whisper. But the song ends with the same manner - intensely and zealously!
But this incredible and fantastic tale draws to a close, romantic and sublime describing The Night the Monsters Died. Then the monsters explode in a fit of rage in the agony of the last spurt, attaching their angry screams to vocal rabies. But the dawn comes, removing the shade of gloom and completing this tale so lyrical and inspired.