November 10, 2016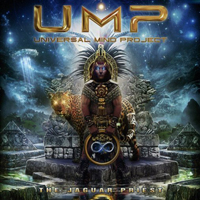 Not everything is easy to discern, but Universal Mind Project - The Jaguar Priest always reveals blood among piles of bones and mud!
The sublime and romantic style starts the story with Anthem For Freedom, combining male and female vocals in unite stream, so their tones complements each other. Then the shades of growl owershadows them for a bit, but they will return!
Truth accelerates its enchanting tales canvas guitar intro, then the rhythm is changing, replacing the delicate female tunes lady, surrounded by fabulous keyboard passages with inclusions furious growls and screams.
A fabulous and mysterious melodies combines in vortices with vocal emotion The Bargain Of Lost Souls, high clean male vocals stays on the leading role, it sometimes complements with female chants and incorporating growling, shading its shades.
Dreamstate locates in the wilds of the clouds, combining a variety of styles - starting with vicious growling, then alternates vocal passages, changes of mood and inspiring anticipation of unusual surprises.
Slowly begins this long saga - with the guitar fingering and fabulous flute, all of them was Awakened By The Light (Universal Mind). Then the instrumental parts are gaining increasing power and fruitiness, but not hiding and removed melodies - on the contrary, praising them to new horizons of perception!
Inspired happening in the world around emotional and exalted Lady accompanies the piano and the orchestra, they can not bear to watch, and embody the experience of A World That Burns ballad Starting with a soft and gentle guitar intro, the leitmotif permeates all of Seven space, changing, with the addition of a variety of nuances, increasing the brightness and beauty of his sound.
The title track The Jaguar Priest sounds challenging, in ragged and progressive manner. The complex structure is changing constantly, playing with changeable flexible form changes and with sound saturating volatile variations.
Quite simply entering with imparting courage guitar riff The Force Of Our Creation removes sadness and gloom, raising above all the desire to live and create.
Underworld Xibalba completes that artwork with its fast at first, then varying and gives way to a different rhythmic patterns and the male with the female vocals.