December 02, 2016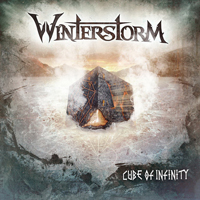 Dices rolling at my hand, there's no definition for fortune in Winterstorm - Cube Of Infinity , damned!
This experienced wise old man Infectious opens the gate for legends with its narration.
Inspiring guitar passages begins Pacts Of Blood And Might as the presentation of legends, next accelerating it over, but not replacing a thrilling guitar riff, flying over the rest of the music on the wings of the heavenly host, which in the manner of his ballad chorus brings the composition to the final stage.
Unhurried recitative calls In Clarity, then the rhythm changes from verse to chorus, in which the heavenly host is returned, carrying the flag of melodic guitar passages.
The hall of distorting mirrors appears in Secrets And Lies with jagged guitar riffs, merging still disconnected they remains. Before the guitar solo sounds monologue of despair, finishing composition after instrumental part.
Epic Saga Effects Of Being sounds sublime and inspired by the story of the exploits of legendary heroes, praising their actions as a warning to today's soldiers and all their descendants.
Through The Storm we go, despite the difficulties and resistance of the elements and nature spirits. But they will not stop our progress in a rush to becoming the path of heroism and honor, we'll proud with next victories. The respite at a campfire will be just the inspiration for the future feats!
Commencing as classical and romantic ballad, title track Cube Of Infinity saturates the narrative spirit of fairy tales and legends mood, but returns to the romantic tenderness, again increasing fury and sound intensity, next again and again.
Frozen AwakeningAcoustic guitar loss calls for support among the fierce howling wind, support comes in arms gloomy and harsh warriors, many-voiced chanting their support, replacing their rough voices with soft and melodious guitar sabre. On the design of the acoustic guitar complements fabulous flute, continuing the epic saga.
Romantic and lyrical occurs Timeshift then mixing anxiety and joy, continues to go into obscurity after a fabulous fiction, chanted by keyboard tunes in the main motive.
Pianist in the tavern plays groovy tune, dices knocking in a mug, Wanderer broadcasting his Hymn Of Solitude stories to buddies, drinking wit him at the table. They are sometimes joined in unison to his tales. Where's my mug? One more!