March 18, 2022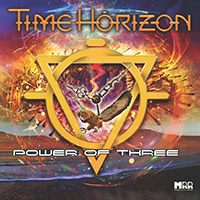 The thoughtful inspiration of the Living for a Better Day song enters with artistic unity of musical passages, progressively enveloping the vocal reflections and creating the musical atmosphere of the Time Horizon - Power Of Three album. Intriguing motifs of the I Hear I See intro create unity of anxiety and sense of forthcoming changes, crowning the intro with wise reflections of vocals and creating prerequisites for forthcoming musical development.
Echoes of medieval minstrel ballads and bardic sagas set the musical mood and atmosphere of the Prelude track, then stirring up the sparkling ascension of the guitar solo and weaving an artistic and mesmerizing musical lace. The Razor's Edge song combines waves of restrained musical drive with inspired vocal ascension, weaving together these elements of musical narrative into a mesmerizing progressive musical lace.
The Steve's Song instrumental composition dispels anxiety and creates a tranquil atmosphere of unhurried reflection, supplementing it with a blanket of soft melody and an enchanting haze of echoes of pleasant memories, anticipating the charm of the Time to Wonder Why soft and gentle ballad, enveloping the haze of romantic reflections and memories of love adventures and emotional experiences.
The Great Divide composition, captivating with its solemnity of musical procession, brings to its rhythmic march a progressive complication of musical structure and vocal reflections and notes of epic medieval sagas, supplemented by the atmosphere of a battle march. The Digital Us unhurried reflection wisely and leisurely sums up the album's musical tale with wise romantic recollections of unhurried vocals sensuality.