October 31, 2016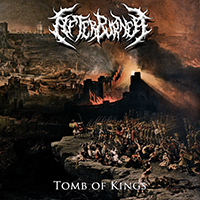 Afterburner - Tomb Of Kings assemles unite, in integral picture, that hard to combine - incarnating the fury and tenderness, anger and kindness in single entity.
The title track Tomb Of Kings begins this artwork with its exciting progress, combining sublime refined leitmotif with saturated and ferocious growl and a dense and persistent accompaniment.
Music becomes much tougher from intro Scattered Remains untill exciting and memorable guitar solo, that entrains to the sky-high dreams, then music is saturated with viscosity and slows down your pace, feasting upon the melody and lyrics.
On average pace, uneven rhythm covers the troubled story Meretseger. Shrouding with the mysterious intriguing details, features and fascinating parts the composition comes to mysterious and melodic instrumental passages, then melodic vortices envelops vocal phrases.
Slowly and persistently playing with unexpected movements and strokes Animal strongly and confidently moves on to his difficult life path.
Complex riff breaks stereotypes, in introducing the entry intriguing expectations, then Hyperion accelerates in a violent rush and desire for unlimited power over all around. Then comes a brief respite, was fond of melodic guitar break untill the next rush.
Persistently and stubbornly proves storyteller the necessity of the Rebellion, after insistent and obstinate phrases followed by complex and diverse guitar passages - there's no any opportunity to question the sincerity and conviction of this opinion.
Mysterious oriental motifs slowly and quietly begin the story of Thanatos, then these motives embittered and gaining power and fury.
Powerful uncontrolled unrestrained attacks pierce their steps in your way all that have Lost in its journey. Then, calmly and thoughtfully talk about the difficulties and hardships of their journey, untill unrestrained vortex of angry spirits do not raid on them from all sides ...for the harsh vocals on russian!
Ornate outlines surrounded by Crypts ancient walls, The album closes with the epic melody, crowning fantastic expectations with bright shine of its sounds.