May 30, 2018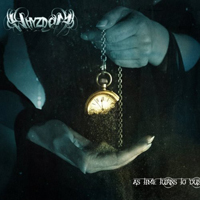 The introduction rolls over with symphonic reflections, an obscure haze of mysterious choruses accompanies vocal reflections, trying to understand Armour of Dust fully and comprehensively. Then the music pulsates in progressive kinks, completing the beginning of the Whyzdom - As Time Turns to Dust album with artistic ambiguity and enveloping vocal reflections with mystery.
The pulsating whirlwind of mystical motifs weaves melodic delights and the obscure responses of mysterious ghosts to one another, then the vocals artistically and variously impose their phrases on a progressively broken rhythm. In the Armageddon instrumental part epic grandeur ends with thoughtful reflections of female vocals, enveloped in gentle passages of an acoustic guitar. And this enchanting melody raises a musical tale to the highest level, completing the completion of the composition with a muffled growling.
Twilight covers of Fly Away dark symphony intertwines the indistinguishable laces of fateful decisions, completing these enchanting melodic fractures the vocals enter with a cappella phrases, then weave our emotions with incredibly symphonic melodies.
Romantic doubts of a troubled lady insinuatingly reveal the limits of brooding The Page ballad. Enchanted mysterious reflections envelop a mysterious atmosphere, capturing a whirlwind of musical temptations, supplementing them with new and new shades and variations of passages.
After romantic reflections, the impetuous waves of drive drag the symphonic motifs into the dark abyss, binding the Follow Your Heart vocal phrases with indestructible fetters, but then calming down in the artistic march that brings the shades of the medieval saga.
The thoughtful atmosphere of ancient fairy tales and restrained vocal reflections collect the Angel of Tears introduction then hovers in the procession of the main motive, leading a round dance around marching vocal phrases.
The whirlwind of doubts and vague apprehensions sweeps Free as a Bird song in spiraling spiral, twisting musical feats of a note of anxiety and cautious forebodings to the axis of artistic symphony, raising fears in vocal reflections.
Slowly wriggling with exciting notes, bewitching the development of The Mistchild majestic motif, the melodic charms of the absorbing oriental motifs and the spicy atmosphere of enchanting mysticism. The vocal distracts with its reflections then ascending to the top of the musical extravaganza.
The first composition of the album began to comprehend the title, the last one, Dust We Are, completes these versatile reflections, enchanting the vocal variety with the shrouded symphonic laces of musical charm.