March 01, 2019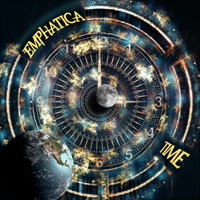 Epic motifs and brooding Rising Moon ballad begins artistic reflections of the Emphatica - Time album, weaving together stylistics and epochs. Inspirational Echoes From The Past song's narrative envelops you with romantic motifs, bringing futuristic influences of cosmic currents by keyboard passages into the minstrel ballad of the ancient ages.
Pulsating reels from side to side, like nomads marching in the usual direction in the course of Wandering In The Desert, weaves epic ancient motifs with futuristic electronic pulsations. Wanderings smoothly flow into Our Sleeping Souls brooding ballad, fascinating with detachment and thoughtfulness.
A captivating Fireplace Tales romance begins with a solo piano, then wind instruments and violins are added to these captivating passages.
The keyboards sets the path of the Mother (Once We Had A Dream) main motive, the guitar passages sound like pleadings and desperate crying, but then the guitar solo is replete with a wave of hope and inspiration.
Unclear reviews of the distant future Reversal are introductory. Rejecting the ancient sacraments and forgotten tales Shattered Lights throws the listener on the dance floor, shrouding in electronic desires of dance motifs.
Partly continuing the futuristic sound Echoes From The Future combines it with ancient bard narrations - as if the digital image of an ancient storyteller rises from time immemorial.
Bringing the pacifying atmosphere of lounge Before We Grow Old complements the album with jazz motifs, weaving enchanting musical lace with solo improvisation of the saxophone.
Mysterious mysteries of mystical motifs twist the mind with the fetters of mysterious ghosts, erecting a ghostly castle of entry with the Deep Space Dissonance composition, developing the album's fullness in the last Dying Sun saga, piercing through centuries and ages.