June 18, 2021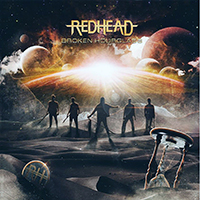 The Devil on Your Shoulder starts the Redhead - Broken Hourglass album's musical tale impatiently and persistently, repeating and accentuating the name of the song in the chorus over and over again. But already the Hold on Me song pacifies the musical impatience, steadily and thoughtfully marching along the chosen musical path.
Slightly accelerating the tempo of the sound, the Weekend Woman brings vocals reflections to the crest of the waves of the musical sea. The Girl accentuates the romantic atmosphere by sounding the main motive, twisting the vocal part in the dance with musical passages.
The One Last Time acoustic ballad anticipates the stubborn waves of unrestrained drive, rolling in waves of unyielding musical rebellion of the Aces on the Table composition. The Let It All Sink song brings the freedom-loving atmosphere of rock'n'roll spirit.
The acoustic introduction with leisurely reflections anticipates the swiftness of the musical passages of the Part II composition. Accentuating the sound of the intro with the guitar riffs of the main motive, the Ghost Train song persistently and unyieldingly drives in the rhythmic passages of its sound. The Last Chance ballad concludes the album with soft chimes of acoustic guitar strings and gentle vocal tunes.