August 21, 2018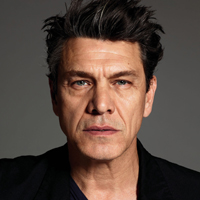 Weaving the sensuality and thoughtfulness, weaving the incredible lace of many musical styles 45 Tours begins the Marc Lavoine - Je Reviens A Toi album very brightly and inspiringly, leaving typical for the style of dominating the vocal part.
Sharing the bright and memorable leitmotif of the album, Station Othoniel raises the vocal narration to the fore, announcing a symphonic and majestic background.
Returning the trends of the virgin telecasts Elle Est Beau Comme Rimbaud brings up the vocal experiences in the foreground with a symphonic background. Description briefly - you need to listen again and again! Gently and melodically promoting the experience Comme Je T'aime develops the sensuality of the album, intending to usher in more vivid experiences!
A thoughtful Je Reviens A Toi ballad intertwines questioning vocal questions with sensual and pensive symphonic musical additions. Artistry goes back to the pulsing passages of the 60s, it is worth noting that Comment Allez-Vous ? calls to the times when many of us were not even in the project!
Soft blues waves intertwine with vocal perdzhi, creating quite impressive< b>Seul Definitivement composition. Le Temps Perdu continues to sound more characteristic of the chanson, supplementing the vocals with female phrases.
As if denying the simplicity and clarity of the album, Je Panique En Douceur extols the notes of artistry and symphonic music. If you ask your humble servant - would listen to this song, the rest are good - but in this everything is intertwined! It's unclear - Leonard Cohen or Elton John Un Chagrin N'arrive Jamais Seul (Alléluia) covers ... it's hard to understand, but it's worth listening to! I really liked it!