July 08, 2019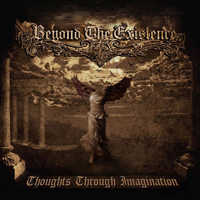 The muffled whispers, the gloomy echoes and reflections of the sage are woven into an intriguing Thoughts Through Imagination (Intro), culminating in a sage's speech. Memoria continues the Beyond The Existence - Thoughts Through Imagination album, complementing it with an unexpected drive for the style, the vocal part is full of emotions and feelings. But in the chorus, the music returns to the expected pulsating march.
In the introductory, the Invisible Chains song is just as impetuous and unrestrained, but the vocal in the verse complements the musical image with feelings, coming to the forefront of musical narration. The Blank main motive is full of emotions and envelops the dark triumph of the gothic atmosphere.
Keeping the same mystical style A Glance to Afterlife complements the sound with harsh power and drive, complementing the album with power, expanding the stylistic framework and transforming the vocals from harsh to growling. Transforming the sound of the music in verses into thrash metal music, in the chorus returns to the disastrous metal, again and again emphasizing the Illusions of a Life's Remains name in the gloomy atmosphere.
Fascinating with the mystical twilight of the main motive, the music of the My Darkness prefaces the verse with dark majesty, but then the mid-tempo drive lifts vocal experiences into a swallowing role, returning to the gloomy greatness in the chorus.
But the impetuous drive returns again in Darkest Potency impetuous race, sweeping away any obstacles from its path. But the vocals in the bridges are held back by fierce haste, stuck in thoughtful reflections.
Mystical covers weave a fascinating lace of the Disgusting Misery intro, anticipating the introduction of vocals with a solemn anthem in which vocal experiences contributes to their participation.
Anxiously throbbing in an intriguing verses Only Ice and Stars is riding to the stars in an inspired chorus flight. Self-titled Beyond the Existence completes the album, weaving a musical canvas from the majestic instrumental passages and rapid streams of musical drive.