April 16, 2022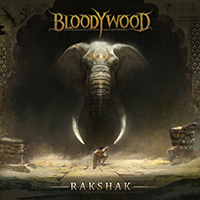 Dancing folklore motifs of spicy Indian fairy tales envelop the further development of the musical essence of the Bloodywood - Rakshak album with a consistent and appropriate atmosphere, complementing the severity of the vocal narration with the bewitching sound of the Gaddaar song. The tunes of the flute give the sound of the Aaj composition a peculiar and captivating flavor, which is later lifted by a whirlwind of severe drive to the entry of vocals with an uncompromising recitative and developing the Zanjeero Se musical mystery of the album by uniting futuristic musical variations and epic echoes of ancient fairy tales.
Then the main motive, united with the vocal narration, takes you on a fascinating journey in search of clues to future riddles.
The vocal recitative is brought to the forefront of the Machi Bhasad (Album Version) composition, which found its embodiment in the famous video games, continuing the vocal significance in the sound of the Dana-Dan song, alternating vocal styles in the sound and giving the musical artistry echoes of the battle march.
Further on the album, a rethinking and reworking of the band's earlier artworks - folklore motifs are intertwined with bewitching vocals additions, creating the musical sound of the Jee Veerey (Album Version), Endurant (Album Version) and Yaad (Album Version) compositions in a single musical charm and artistic unity of music and vocals.
Futuristic musical passages with the influence of folklore motifs are intertwined with vocal recitative and harsh vocals in the Bsdk.Exe bewitching musical lace, captivating to listen to and charm the Chakh Le final composition of the album.