June 14, 2020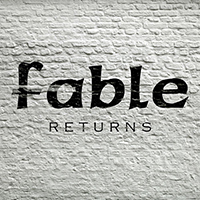 The I Want You song begins the Fable (USA) - Returns album with an explosion of emotions, wrapping them in a chorus with sparkling whirlwinds of guitar solo, continuing the embodiment of emotional rebellion in the instrumental part.
The pulsating heartbeat of an organism of the All I Do medium-tempo composition is intriguing by a thoughtful vocal narration of the introduction, then entwining the vocal part with a whirlwind of guitar riffs of restrained drive, but returning to intriguing thoughts again in the next couplet, then repeating a similar sequence again.
The Sweet Love whirlwind of guitar solo intro introspects a twist of inspiration, complementing the charm of musical passages with dreamy vocal phrases, complementing the completion of the measures with the wordless choral singing.
A more romantic and inspired rethinking of the I Want You (Alternate Version) composition that opened the album continues the musical narrative. The romantic atmosphere is continued by the Tears in Your Eyes (Remastered) ballad, intertwining acoustic chime of guitar strings with inspirational vocal phrases in the bewitching dance of the bard saga, complementing the musical image with chime of a tambourine.
This release closes with the energy of live concerts, combining the melodic passages of the Love Is for Free (Live) song with the energy of fan hearts and wringing a whirlwind of the I Feel (Live) song's energetic drive.