July 14, 2022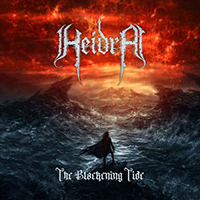 The soft chime of the guitar strings is combined with the mesmerizing inspiration of the vocal narrative, setting the musical charm of the sound of the Dawn composition, which marches with the majestic step of an epic fairy tale, then brings a certain bitterness with vocal growling. The Price In Blood musical saga continues the musical story of the Heidra - The Blackening Tide album, building a musical structure in accordance with the vocal selection, anticipating the vocal ascension with a bright guitars solo.
The symphonic charm of the Rain Of Embers musical fairy tale turns the pages of the musical story with a leisurely vocal procession, meaningfully and fascinatingly narrating its musical story, from time to time accelerating the tempo while maintaining devotion to the leitmotif. The piano solo precedes the development of the sparkling sound of the Lady Of The Shade composition, wrapping the vocal growling with sparkling vortices of guitar riffs, but then returning again to the melodic charm of the sound in the final part of the composition, the style of which continues the symphonic grandeur of the sound of the A Crown Of Five Fingers musical saga, which builds its musical structure on the basis of vocals alternation.
The Blackening Tide title track begins with the brooding narrative of the skald, who is then supported by musical companions, complemented by voice support and musical decoration of the sound. After setting the direction of the main motif in the introduction, the Corrupted Shores composition again and again transforms the sound in accordance with the vocal transformations, preceding the charming Hell's Depths musical fairy tale completing the album.