May 15, 2021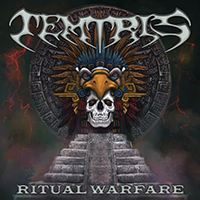 Marching soldiers, police buzzer and alarming conversations anticipate the completion of the intro of the bass solo and guitars riffs, then developing into the Race to the End main motive, accelerating with the entry of vocals. The One for All intro's guitar solo entry into the joining and enchants the mysterious melodium, then the vocals again calls for a frantic drive and fierce music passages to continue the Temtris - Ritual Warfare album.
The mystical atmosphere accompanies the sound of the Seven Sins of Man track, creating an atmosphere of the twilight mystery and a forgotten fairy tale in the mid-temperature saga with romantic fragments of the charming guitar solo. The sparkling melody of the intro ends again with the swirl driver and the vocal rebellion of the Forever song.
The title composition Ritual Warfare begins with the wordless chorals of the church ministers, then the flexing spiral of the main motive around the vocals part. The Tempus Aeternum mid-tempo march begins the procession of the solemn hymn with vocals in short handles, then continuing to the ascension of vocal phrases to the top of the musical image. The vocal part dominates the sound of the Erased song, intertwining in the fascinating dance with the swirl of guitar riffs. The Always United composition completes the album Epic Saga with an extension of knightly exploits and legends about invincible heroes.