June 07, 2022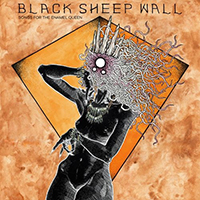 A whirlwind of guitar riffs wraps around the Human Shaped Hole vocals phrases like a swarm of bees, carrying away buzzing musical passages to the beginning of listening to the Black Sheep Wall - Songs for the Enamel Queen album, emphasizing the vocal significance of the harsh tread of the finale, which breaks off with a pause and continues with vocal restlessness in the introduction of a long, viscous and stretched New Measures of Failure musical saga, combining in its variety the trends of several musical genres and their stylistic offshoots, but adhering to the musical canvas of the twilight atmosphere of a dark anthem.
The persistent and unyielding waves of musical pressure escalate the disturbing atmosphere, accentuating and designating it with the twilight anxiety of the vocal phrases of the Concrete God composition and the gloomy Ballad of a Flawed Animal, which follows it, in which music and vocals roll in waves of gloomy forebodings and anxious expectation of future changes.
Rolling with whirlwinds of militant musical motives, the Ren composition crowns these musical variations with significant and confident vocals severity, bringing confidence in readiness for any collisions, obstacles, trials and fights.
The intriguing mystery of the introduction ends with the twilight grandeur of the vocal narration, unrolling the mysterious canvas of the Mr. Gone musical tale. Vocal emotional transformations, transformations and rethinking of one's own essence weave a bewitching lace of a progressive and exciting musical mosaic. The mysterious and twilight Prayer Sheet for Wound and Nail musical saga ends the album with unhurried thoughts and an atmosphere of mystery and vague forebodings.