May 14, 2021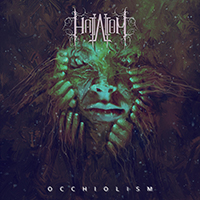 The Solipsism instrumental ballad begins the Hatalom - Occhiolism album with a soft and romantic chime of guitar solo and inspiring and thoughtful musical intrigue, developing musical romanticism with the Altered Reality song's combination of a restrained drive and a vocal party combining and alternating screaming and grounding.
Introduction envelops the conclusions of The Depths Of Consciousness fascinating symphony, then alternating significant and solemn meditation with growling vocal and rapid vortex of musical frenzy with screaming. Accelerating the tempo of the musical race, the Expansion song is ascertained by musical speed.
Having enveloped the vocals phrases with a veils of epic saga, the Stellar Dreams composition builds musical essence, subordinating musical variations of alternation and a combination of vocal styles. The Evolutionary Knowledge song continues a such musical style, complementing the significance of vocal alternation with epic symphony in instrumental bridges. Particularly fascinating pensive weeping violin solo of the instrumental part. When entering the medium-level processing of epic saga, the Negentropy then combines a solemn procession of a medium-point march with vocals severity and variations of a musical pace. The Eclosion track completes the album with the instrumental suite, combining the thoughtfulness of the guitar solo and the symphonic greatness of music passages.