December 15, 2021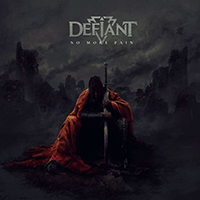 The drumbeat of the musical tale culminates in vocal doubts, transforming into the mesmerizing sound of the Breaker Of Chains epic saga, at times blazing with a swift drive. The When Eyes Are Cold battle march of the intro continues the Defiant (Ukr) - No More Pain album's musical narrative with echoes of somber doom prophecies, brutalizing the vocal part and supplementing it with restrained background growling, wrapping the vocal musings in a sparkling thread of symphonic charm.
Developing the musical breadth of the musical creation, the Guest From The Night song attracts with its artistic variation of vocal changes and the musical influence of oriental motifs. The Not A Saint composition brings the vocal part to the forefront of the musical image, intertwining the male vocal parts at times in an enchanting duet spiral and complemented by the proclamations of the singing lady.
After an intriguing introduction, the Black River song intertwines Eastern motifs with symphonic storytelling and vocal variety in an artistic essence of sound. The Masquerade composition fascinates with its enigmatic playfulness of musical variations and enigmatic variation of vocals reflections with echoes of epic motifs in the instrumental bridges.
The melodic and artistic World Of Rain ballad captivates with its romantic atmosphere, combining vocal sensuality and musical symphonicity, anticipating a reimagining in the Not A Saint! (Feat. Petr Elfimov (Гран-Куражъ)) album's final track of one of its compositions featuring the musician of a famous band.