December 18, 2018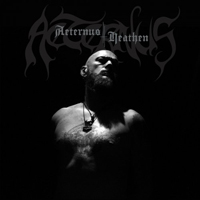 The Hedning melody envelops the mind with pensive romanticism, the background melodies of the priests create an epic background, then the guitars elevate epic motifs and appear in the true guise of the Aeternus - Heathen album, complementing the low-profile growling vocals with the mysterious charm of northern folklore. In the instrumental part, the guitar solo introduces an atmosphere of romanticism, moving away from epic folklore motifs, but the final part of the narrative once again brings back the trends of ancient legends.
The majestic guitar solo in the intro sets the shades of the main motive, rising in the glorious narration of The Sword Of Retribution ancient artifact. Thoughtful musical passages accompany the vocal narration, revealing the peculiarities of legendary fairy tales at an average pace, complementing their melodic tones in the instrumental bridges that surround the chorus.
Continues the atmosphere of a fabulous story Conjuring Of The Gentiles song while giving the album a bit of more majesty and leisurely announcement of fairy tales. In the middle of the composition, the music explodes in a furious drive, followed by a brooding romance, enveloping the atmosphere of a romantic ballad and acoustic guitar passages.
Unrestrained rage takes uncontrollable drive in the The Significance Of Iblis stream, vocals hardens to deep and severe growling, dismissing romance and excessive tenderness. But in the chorus, the music is pacified to a midtempo gloomy narration, then returning to a furious drive again. In the How Opaque The Disguise Of The Adversary composition, these versatile musical streams are woven together, complementing thoughtful vocal phrases with swift musical passages. In the instrumental bridges, the music complements the atmosphere of the song with epic tones. Reflections of the bard about the future wanderings, shrouded in a pacifying mist and anticipating future impressions complete the composition, anticipating the next dense Boudica introduction, which as if develops these motifs in a different musical flow of epic narration. The main motif fascinates with its sound, recreating the echoes of ancient tunes and invoking the responses of wind instruments to longtime ancestors in the instrumental part, uprising fascinating palaces with a guitar solo, after which the main motive completes the composition.
Medium-tempo 'illa Mayyit composition completes the album with a restrained epic narration, while maintaining the uniformity and conceptuality of the sound of this musical creation.