January 06, 2021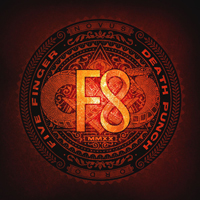 The title track opens the Five Finger Death Punch - F8 album with symphonic grandeur, then infuses notes of fierce harsh with the Inside Out vocals indignation, but then combines enchanting melodism in the vocals and music, entwined with the melodism of a guitar solo. But then the vocal indignation comes to the fore of the Full Circle musical image, nevertheless raising the banners of inspiration in the chorus. The Living The Dream musical drive envelops the mood of a harsh march. Beginning with an acoustic ballad with country-style confessions, A Little Bit Off then distorts the vocal passages and complements the confessions with slightly different notes.
Exploding with the fury of a harsh drive, the Bottom of The Top rolls over in waves of anger and irritation. But then the composition takes on notes of romantic pensiveness, then hardens again and accentuates the vocal recitative. The To Be Alone track sets the main motive of the stern march to the guitar intro. The sound of Mother May I (Tic Toc) composition combines the dominant melodies of clean vocals and some additions of harsh. The Darkness Settles In captivates with the inspiration and melody of a charming ballad. But the This Is War song changes the sound of musical narration with a fierce thriller that retains musical melodism, but hardening vocals in battle rage.
Returning to the ballad's intro, the Leave It All Behind then combines vocal recitative with inspired vocal tunes of clean vocals. The Scar Tissue hardens, but in a somewhat playful tone combines volcanic harsh with melodies of clean vocals. Enchanting with the sound of a mesmerizing ballad, the Brighter Side of Grey ends the main albums part, combining the dominant melodies of clean vocals with background guitar riffs.
The bonus part of the album begins the procession of Making Monsters (Bonus) mid-tempo march, continuing with the fierceness of Death Punch Therapy (Bonus) furious drive and ending with a rethinking of the Inside Out (Radio Edit) composition of this album.