February 17, 2019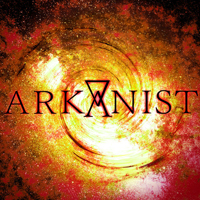 The piano's epic passage creates a trend of symphony, but then the guitars take the musical canvas of the Gone composition in an impetuous drive, the vocals make many adjustments to the musical narration, carried along with the musical whirl of the drive.
The guitar solo sets the mood for the The Meaning of the Mind intro, then the vocals expand the stylistic boundaries of the Arkanist - Arkanist album with phrases of clean style, but then growling sits on an epic beast of musical accompaniment, sparks of the guitar solo fly around this rider. Guitar solo before the final part adds the spirit of romanticism.
Carried out in the violent impulses of impetuous drive in intro then Only Red is transformed with the introduction of vocals, raising the radiance of an epic story. Buried and Burned begins with the romantic narration of a thoughtful bard. But then the narration turns all new and new shades, in the final part of the growling vocals complements the clean vocals with their own phrases.
The intro complements the album with the style of trash metal, but the vocal growling partly returns the musical canvas to the style of the album. But then the background broadcasts of clean vocals in the bridge give the Wreckoning Day composition a kind of epic identity.
Once again, the Feed the Beast introduction returns to rampant swiftness, the vocal tries to transform the musical lace, but it remains unbreakable in a stream of violent drive.
The majestic passages anticipate the pulsating sound of the Rise from the Ashes battle march interlaced with the banners of a guitar solo in bridges and complemented by the harsh narration of the vocal part. But then the vocals are transformed into the pleading clean vocals prayers, then returning to the severe trend of growling.
The mid-tempo ripples of the march continues in the final composition of the album The Funeral is Today, first sounding more inspirational, then pumping a drive wave intertwined with a sparkling guitar solo tape.