May 25, 2023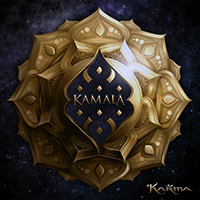 Intriguing mya guitar passages soar in a bright whirlwind of drive, weaving the musical flow of the Forgive The Weak main motive, wrapping around the vocal part in the future and sometimes coming to the fore of the musical image, after which the title track of the Kamala (BRA) - Karma album enters with a fascinatingly complex progressive sound, then whirling with a furious whirlwind of frantic drive, then wrapping the singing lady with enchanting covers of artistic lace of oriental motifs.
Howling with a fierce drive and impetuous rebellion, the My Will Be Done song again and again accentuates the chorus, continuing the sound in a progersive dance with the influence of folklore elements and the preservation of drive, which is more and more persistently accentuated by the rolling sound of the Made Me Bleed composition, to the introduction of a stubborn march of vocals, sometimes entwined with the charm of oriental motifs.
The whirlwind of the guitar solo twists the musical extravaganza around the axis of the rhythmic component of the Fear musical thriller, then combining music and vocals in a joint musical assault, then rolling the waves of the Never Enough solemn anthem, crowning their crests with vocals phrases in the progressive unity of the rolling drive.
After a vivid embodiment of Indian folklore in the Dharma instrumental track, as an introduction to the Delusion composition, music and vocals are intertwined in a bright musical dance, dragging into the expanses of dreams and illusory temptations, then exploding with a violent musical thriller in the Misery And Pain final composition of the album, which, with the introduction of vocals, brings echoes of folklore motifs in an artistic combination of musical shades in a single pattern.