January 04, 2022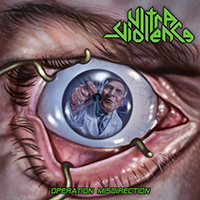 At once exploding with musical frenzy the Cadaver Decomposition Island song then complements its sound with emotional vocal intrigue, flying swiftly and relentlessly on the chosen path. But then the vocals bring in shades of thoughtfulness, concluding with a bright and fascinating guitar solo, which anticipates the final fragment of the composition. The Welcome To The Freakshow track rolls with rhythmic waves of persistent musical march, continuing the musical narrative of the Ultra-Violence - Operation Misdirection album with a procession of peculiar creatures, praised by the vocal part.
Intriguing with a rhythmic introduction, the My Fragmented Self persistent march then lifts the vocal phrases to the crests of the waves of a persistent and rhythmic musical march. The Acrobat composition immediately explodes into a whirlwind of musical frenzy, progressively and artistically combining vocal and musical parts.
After the mysterious foreshadowing of the intro, the Nomophobia takes off in an energetic and unrestrained roundelay, winding and twisting the listener with guitar riffs.
Paying tribute and respect to the legends of music, the Money For Nothing (Dire Straits cover) very peculiarly and unexpectedly transforms the style of sound of this song, preserving the musical sound of the main motif. The Stain On My Soul Remains symphonic musical enchantment with a muffled whisper in the finale acts as an introduction to the Shining Perpetuity last song of the album, rapidly and vividly concluding its musical narrative with its sound.