July 01, 2018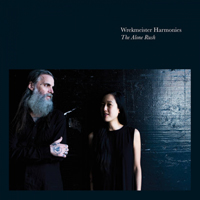 The soft chimes of the A 300 Year Old Slit Throat guitar passages are supplemented by restrained, overflowing with wisdom pensive vocal phrases, supplementing then the incredible musical calm of the Wrekmeister Harmonies - The Alone Rush album with female vocals chants and orchestral arrangements of the parties of wind instruments. In the composition's final part the music is supplemented by a violin solo.
Descent Into Blindness as if continuing the previous song, flashing with nervousness and emotion in the instrumental part, anxiously wrapping up a whirlwind of emotions all the way down, lowering the curtain to the beginning of the next composition Behold! The Final Scream, starting with incredibly calm muffled vocal reflections, the music slowly and romantically brings to the leitmotiv of the album the explicit influence of Japanese folk motifs. In the instrumental part, the epic musical takes on gloomy tones, envelops in obscure anxiety and gloomy omens.
Concentrated vocal phrases, enveloped in the breath of the wonderful violin passages, pulsate in a marvelous romance, Covered In Blood From Invisible Wounds elevating the vocal experiences to the crest of the wave. Then Forgive Yourself And Let Go composition pushes the vocals away from the dominant position, enveloping the incredibly soothing instrumental haze of the introduction. Vocals from time to time complements the music with their reflections, in the instrumental part, the twilight symphony focuses on organ solo.
The title track The Alone Rush completes the album, capturing thoughts and consciousness with a wondrous symphony, thus extolling tranquility and pacification - that there is no other way to express feelings and emotions than a calm and meditative contemplation of the restless throwings of the surrounding reality.