February 16, 2022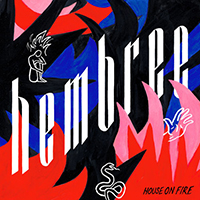 Musical electronic impulses are combined with vocal doubts in the sparkling mystery of the I Don't Know Why dance, which opens the musical expanse of the Hembree - House On Fire album to the attention of interested listeners. The Culture composition appears as a leisurely procession of mysterious reflections.
After the intriguing intro passages, sparkling pulsations of electronic pulses make up the musical essence of the Right Time main motif, anticipating the advancement of the vocal part to the foreground of the Skyline song.
Once again the introduction intrigues with expectations of the development of musical variations, then raising inspirational vocal phrases on the crests of the musical waves of the Heart composition, then concentrating the romantic musical atmosphere around the Continents vocals reflections, ascending in the artistically inspired sound of the chorus.
The musical pulsations come in insistent waves, acting as the Almost leitmotif, combined with shifting vocal phrases. Beginning with muffled vocal reflections, the Never See It song is transformed by an inspired and joyful procession. The pulsating rhythmic sound of the Symmetry Lines track is combined with subdued vocal reflections that complement the main vocal with background chorus and anticipating the end of the album with the sound of the House On Fire title track.