August 22, 2019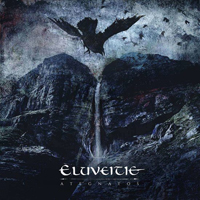 The alternation of thoughtful and touching fragments with female vocals alternates with severe male vocals, intertwining together in the chorus of the title track of the Eluveitie - Ategnatos (Limited Edition) album, shrouded in enchanting trends of folklore motifs. Brief phrases of the lady Ancus against the backdrop of the weather set a pensive mood of the Deathwalker intro, transformed by restrained waves of drive, braiding the narrative of the mid-tempo march with bewitching melody.
The mesmerizing instrumental solo introduces the enchanting trends of the Black Water Dawn main vocals, the alternation of the severe male growling, braided by folk melody and the inspired romance of the lady in the chorus impresses the vocals. Mysterious motives give the flute tunes, then vocal rabies sets A Cry in the Wilderness composition structure, being transformed by the folkloric melody of instrumental bridges. The instrumental passages of The Raven Hill introduction set the sound of the main motive, then retreating in front of the bewitching vocal duet, then weaving together in so impressive musical stream.
Fascinating tunes of a flute captivate, then in The Silvern Glow sound, intertwined phrases of male and female vocals, enchanting the listener with the marvelous mystery of the Ambiramus folk tales. Completing the thoughtful intricacies of fairytale motifs, Mine is the Fury transforms into a stream of pulsating drive, intertwining screaming and growling in the vocal part. The Slumber impressive and exciting alternation of phrases of male and female vocals captivates, alternating with exciting turns of folk instrumental in bridges. Mysterious whispers and sorcerer's memories precede the flow of the Worship violent storm, flying away by the rampant waves of a furious drive The mesmerizing instrumental solo of the flute with rain in the background appears as an introduction to the charming tunes of Trinoxtion singing lady, occasionally exploding in the Threefold Death violent waves of drive, then turning into a swift stream of uncontrollable drive of a furious thriller.
Inspirational passages of the main motif surround the reflections of female vocals with an enchanting lace of Breathe sparkling symphony. The chorales completes the composition with a thoughtful mystery, transformed by a brief influence of silence and revived in a bewitching image of the Rebirth fabulous motif, braiding enchanting vocal phrases with an enchanting sparkling cover of mystical tales. An acoustic mesmerizing Eclipse vocal solo of a singing fairy with bad weather in the background completes the main part of the album, supplemented in this release by an acoustic reinterpretation of several compositions: Ategnatos (Acoustic Version), Ambiramus (Acoustic Version), Threefold Rebirth (Acoustic Folk Medley) .