August 13, 2021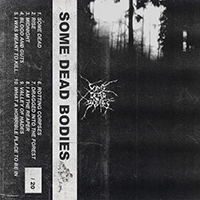 The Some Dead mysterious entry opens the musical gates of the Some Dead Bodies - Some Dead Bodies album, in which millstones are further unchecked by the Rise composition combining a dense musical drive with fierce vocal screams and growls. After the granting of the elder to the front plan of the musical image of the Midnight song, the vocal unity of screaming and growling vocals comes out.
Rapid and impatiently, the Blood And Guts composition shall be powdered by changed vocal phrases with whirlies guitar solo, speaking some entry into the I Was Meant To Kill. song, measuredly alternating vocal styles in the music structure. The Rotting Corpses track is returned to the impatience of the sound, which has vocal experiences on top of musical waves.
Rhythmically and tightly driven the path of your march, the Dragged Into The Forest composition is tight and crumpled and hollow out the path of its march. Intrigating the guitar solo entry, the I Am The Reaper then spins its canvas into the sound of the main motive. Intermittent and changeable guitar solo still sets the rolling sound of the Valley Of Hades main path, anticipating the What A Horrible Place To Be In final album's composition.