May 18, 2022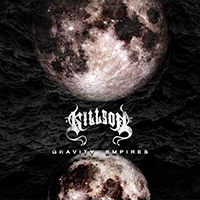 Rolling the rolling waves of the guitar solo, the Under The Shades composition then gives primacy in the musical hierarchy to the vocals, continuing the Killson - Gravity Empires album with similar stylistic solutions in the sound of the Indifference song.
Rolling and rhythmically, the Give It Up musical march drives the rhythm of its procession into the road stones of the chosen path, somewhat pacifying the music with sophisticated vocal reflections, anticipating the inspired sparkle of the romantic sound of the Gravity Empires album's title track and continuing its Icarus epic pensive saga.
After careful and painstaking preparation, the vocal part leads the musical procession of the Sea Below ballad, enveloping the sound of the Panic Attack composition with covers of mystery and a twilight fog of an obscure haze.
After the pulsating mystery of the introduction, the Sex Hormones musical story continues to march in an atmosphere of twilight mystery, sheltering it with an artistic guitar solo of the instrumental part, continuing to hammer in the rhythmic step of sound with the brooding Ace To Fold battle march.
Doubts and conjectures follow in the sound of the Time To Mend song, along with the sparkling transformations of the vocal part. The rhythmic heartbeat of the Introvert musical organism rolls in waves of musical and vocals bitterness, anticipating the melodic charm of the pensiveness of The End Of The Line final ballad.