September 01, 2019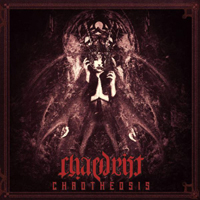 The thoughts of the sage Vastitas Mundi (Intro) begins the Chaedrist - Chaotheosis album, developing in the furious drive of the SÆLICLÎCHE VINSTERHEIT composition, rapidly and irresistibly elevating vocal emotions with the flag of black hatred. The siren and alarming premonitions begin the Nicht Mal Mehr Asche song, developing into a swift blade of the main motive, piercing the mind and revealing a bouquet of feelings.
Dark power hardens the narrative of the Chaedran Cult song, which brings stubborn vocal reflections to the forefront of the musical image. Ante Aras Ad Sidera accelerates swiftness in a hasty race, enveloping the vocal part with a whirlwind of gloomy musical drive.
Showing the essence of the main motive at the introduction, Lichtdurchflutet envelops vocal reflections with the covers of a dark anthem. Focusing power and severity in vocal phrases Mad Creatress paces the procession of a dark anthem. Wrapping up vocal phrases with gloomy dark motives, Whilst The Wolven Hour composition creates a bewitching lace of charming darkness.
After mid-tempo compositions, Beruset Av Hat flies away on the wings of a black dragon in a swift blade of unbridled drive, slowing down the musical narrative in the haze of the bridge before the introduction of vocals. Waidmannssang concludes the album with an explosive action movie combining tempo and screaming and growling vocals in a vocal part.