August 01, 2020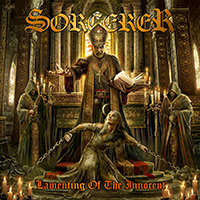 The Persecution (Intro) twilight symphony begins the musical narration, continuing with The Hammer of Witches pulsating march of militant musical tension, rolling in rhythmic waves, accentuating the final piece of the tacts with a whirlwind of guitar solo. The Sorcerer(SWE) - Lamenting of the Innocent title composition begins with dreamy tunes of vocal reverie, creating a romantic atmosphere of old memories, but then music and vocals are reunited in a round dance of darkened romanticism of a severe ballad.
Returning to the rhythmic march again, the Institoris crowns the musical and vocal severity with bewitching sparks of guitar improvisation. The sad romance of the Where Spirits Die epic saga envelops the twilight haze of mysterious mysticism, telling the tale with pensive vocals. The participation in the the doom metal recording of the vocalist of the band, which so significantly and deeply influenced the development of the doom metal musical style, very, very much complements the musical impressions of this album.
The enchanting sound of the Age of the Damned epic musical tale is given additional charm by the incredibly hit motives of the chorus. The Condemned develops the melody of the previous composition, starting the vocal narration with the tunes of the acoustic guitar, then complementing the music with the melodic tunes of the electric guitar solo.
After a thoughtful introduction, the Dance with the Devil begins the vocal part with the chorales of the ministers of the church, then complements the romantic vocal tunes with chimes of guitar strings. Finishing the album, the Path to Perdition enters with incredible romanticism of a guitar solo, then embodies the greatness of the dark anthem in his sound, sometimes complementing the vocals with notes of bitterness.