February 06, 2022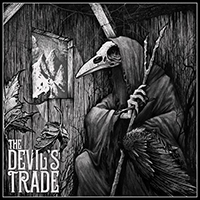 The sad musical reflections of the The Iron Peak song with its soft guitar passages begin to reveal the musical essence of the The Devil's Trade - The Call Of The Iron Peak album, combining a wistful vocal pensiveness with appropriate musical reflections. The guitar solo of the Dead Sister intro rolls out the musical canvas of the main motif, on which the narrative of the vocal tale then proceeds.
The musical solo acts as an intriguing mystery to explain and prepare for the opening of the gates of the next chapter of the musical story, in which the No Arrival vocals then combines in a thoughtful dance with musical artistry that anticipates the sound of expectation and anticipation of change in the musical narrative of the Expelling Of The Crafty Ape composition.
The acoustic guitar solo sets the sound of the Harom Arva main motif, shrouding the shroud of musical mystery of further vocal doubts, further sounding the Eyes In The Fire song, giving a note of hope with the unity of the guitar and vocal narration.
The final chapter of the album begins again with an acoustic guitar solo in an atmosphere of mystery, preparing for the emotional vocal proclamations of the Dreams From The Rot song, capturing the listener's attention in a whirlwind of emotions and anticipating the final composition of the album, which completes its tale with the unity of The Call Of The Iron Peak title track's musical artistry and vocals experiences.