December 19, 2021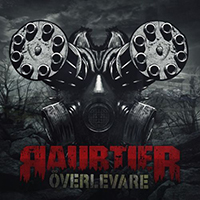 The musical and vocal inflections of the Raubtier - Overlevare album's Preludium: Praeparatus Supervivet intro leave an inordinate amount of mystery, then succumb to the militant pressure of the Hogt, fritt och blott track, in which the vocals seek to develop the melodic thread of a twilight battle tale.
The narrator's call, the pulsating rapidity of the drive topped with mysterious key calls creates a disturbing atmosphere of sound of the Ovtjarka song, which continues with sound and unhurried clouded meditations of the A. I song.
After a brief introduction, the Kommando X composition confidently follows the direction of vocal reflections and the unification of folk motifs with industrial musical tones. The Bunkern track rolls in waves of harsh battle march, brutalizing the vocal part and making the sound even more rhythmic and militant.
Music and vocals intertwine in the Huvudjagarsang festive dance, foreshadowing the unrestrained swiftness and hurried sound of the Serum composition. The Dystopisong rhythmically and assertively pummels the musical path of its sound, foreshadowing cryptic vocal reflections. The Neodymium composition closes the album with a thoughtful, melodic charm.