January 15, 2022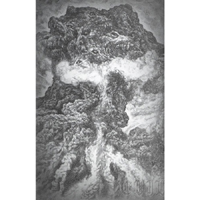 The dusky Breath Of Abyss instrumental introduction opens the gates of the gloomy musical narrative of the Evilwinged - Avatars Of Satan album, serving as an introduction to the even darker sound of the Nocturnal Rite track, supplementing the musical gloom with dark and intimidating vocal experiences.
More explicitly displaying the intimidating screeching of vocal screeching, the Metamorphosis song brings the vocal part to the forefront of the musical image, sometimes combining several voices in vocal duets, supplementing the dominant screeching with background growling and bass.
The Avatars Of Satan title track gives more importance to growling, combining it with screeching in the duet of the vocal part. The instrumental bridges and the parts in them give the sound of the musical stylistics a certain peculiarity.
Rapidly chasing in an energetic flow of musical drive, the Brush And Spear song explodes with a furious flow of musical thriller, anticipating the embodiment of raging gloom and horror in the vocal frenzy of the I Cum Fire composition. The Vexilla Regis Inferni instrumental track completes the album's musical narrative with an impenetrable twilight haze.