April 07, 2019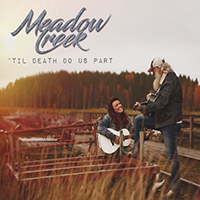 Thinking about the development of the Not Anymore song, male and female vocals are woven together, anticipating the style of the rest of the Meadow Creek - 'Til Death Do Us Part album. But the female vocals come to the fore in the choruses, intertwining with the male in the verses.
Fears, fear and anxieties come to the fore, male vocals are soloists in the verses, female vocals complement his Rescue Me prayers in the choruses.
Gently charmingly and gently vocal phrases envelop the perception of enthusiastic delights, alternating between male and female phrases in the narration of the Small Shell from the Sea solemn anthem.
A couple of lovers intertwines their vocal phrases in a bewitching union, wrapping confidence in their choice with the Til Death Do Us Part title track's musical passages. Female vocals captivate with their narration, music complements the musical image with their passages, then muses vocal envelops with their narration, inspires and supports the Golden Frame song. New Orleans river blues motifs envelops the narration of the I Got You song with its charm. Rhythmic pulsating sighs combine thoughtful reflections of male vocals with keyboard solos, that's singing like chanting Hey Now church hymn. Violin influences brings in memories of So Far from Home birthmarks to which you return again and again in thoughts and thoughts, then violin passages pierce intertwined male and female vocals.
The pulsating waves of enchanting musical narrative In the Blood alternates male and female vocals in the verses, elevating them to inspired unity in the choruses. Fascinating romance brings the atmosphere of symphony, enveloping the sensuality of Time to Let It Go vocal reflections with the enchanting atmosphere of universal love, completing the album with unsurpassed inspiration.