September 03, 2017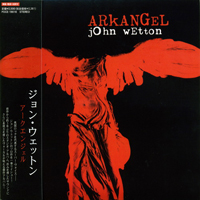 The instrumental saga The Circle Of St Giles, brilliant in its unsolved mystery, begins the symphony of progressive thought, John Wetton - Arkangel [2007 Remastered] upraising minds over the worldly decay and dense clouds.
Music embodied from bright passages of instrumental ideas gives charm, vocal phrases supplement with wise thoughtfulness - The Last Thing On My Mind not allowing distractions to small, unnecessary nuances.
Reflections on whether love is divided or not, understand the feelings and what will be further woven with the instrumental passages of the saxophone into Desperate Times, so charming ballad!
but the energetic drive of young thoughts, anticipating and assessing the possible reaction of the parents declares I Can't Lie Anymore! Well, the refrain is built on this adult and thoughtful belief.
Thunder strikes starts title track Arkangel, that chants, praises the object of adoration, supplementing sensual vocal phrases with the charm of the restrained soft symphony and delightful orchestral motifs.
Bright and pulsing You Against The World main motive moves uncompromisingly along its path, laying the canvas for vocal phrases and circling around instrumental passages.
Echoes of medieval heraldic anthems and marshes appeals to knights - Be Careful What You Wish For, bringing the spirit of tournaments, castles and dragons are transferred to modern spaces, without losing the charm of valiant victories.
Returning to the emotions that upraises the object of adoration Emma over all else in a gentle and restrained vein indicates admiration, love and adoration.
After so thoughtful tenderness, Nothing Happens For Nothing returns the benefits of certain amount of energy and drive, without rushing into a frenzied jerk, but creating a reliable march of musical expansion.
Thoughts and reflections, restrained assessments of the surrounding world are concentrated in forebodings, All Grown Up which gives reason to think that at the beginning of the path one must correctly choose the further direction.
After All is pronounced with the first words of a thoughtful, restrained ballad, rising music in the chorus and next instrumental part to an unattainable level of heavenly grace.
The thoughtful instrumental saga The Celtic Cross brings the spirit of the heathy steppes in the mountain valleys, the surf noise and the smell of marshmallow honey in this tribute to folklore of the Celts.
Beginning with children's questions, the Take These Tears main motive once again dominates in this musical story, but vocals phrases and hovering around instrumental passages creates so charming musical image!
The thoughtful romance Magazines is like the reflection of the experienced elders reflecting at the armchair near the fireplace about information that has been gleaned from magazines and newspapers. Is it worth to believe that info or not? Everyone has own answer to this question. The applause of the listeners creates the beginning of the sensual romance Woman that completes the album with thoughtful country-style ballad with the support of grateful fans.