July 22, 2016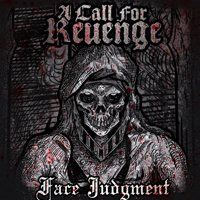 There are documents, evidences, testimonies - but you must appear to A Call For Revenge - Face Judgment otherwise they will not trust!
Rhythmically marching adepts consistently preparing the Sacrilegious Prayer. The gloomy atmosphere is surrounded from all sides, dragging and not letting distractions.
Vae Victis slowly drives its narrative, ragged fickle rhythm combined with fascinating melodic guitar riff running through the track as a leitmotif.
Rhythmically drives in the listener's mind the fact - Blood Demands Blood. Sometimes slowing down the pace, breaking the monotony and creating interesting derogations, however - hammering referred thoughts persistently and inexorably.
The guitar riff begins the story of those, who was Justified. Several times the pace changes - from a viscous and extremely slow sputtering rate, to lively enough pace.
The viscous, stringy guitar riff - only entry of Iron Hearted. Then, nimble and fast verse, flying to meet as a measured, as well as the introduction, the chorus.
Starting with measured, viscous story, riddled and wearing a guitar passage Built To Last accelerated in anticipation of rabies verse, but then returns to the viscous ductility. But - again invigorating burst of pace required to track delayed completion.
Downfall describes the possible consequences of falling, slowly and rhythmically, complementing the sound picture different vocals, growls and harsh here reflect its many shades. The pace of the track changes several times, and in each subsequent piece is difficult to predict - what it will be!
Begins by progressive referring to the epic space arts, then variously variable notes of this passage will pierce the entire track as leitmotif, Through Adversity many times changing the tempo and pushing stylistic shores - not restricting its way by monotonous and dull sound patterns, diversify and creating an unforgettable sound picture.
Forjados Para Prevalecer fun and powerful, furious fits in pretty solid framework, but briskly and vigorously pursuing its way into them.
Traitor Cleansing treachery requires clarification and explanation of all your poustupkam. The requirements of several judges echoed voices and charges traitor heard many times and persistently.
Dreamy lyricism beginning of Never Forget Never Forgive turns into a dense and powerful rhythmic hammering vocal phrases in mind, covering it with melodic guitar riffs. Sometimes this process is accelerated, but only into short-term bursts.
Melodic guitar riff that starts Mi Juramento inspires to further listening, giving the nature of the hopes and making its vocal delights, instrumental variables and alternating rhythmic pattern - all that makes a sharp improvement in mood! But the story ends!