October 30, 2016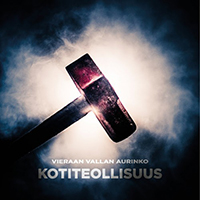 The sun in the sky has not yet extinguished, but its light necessary to accumulate for Kotiteollisuus - Vieraan Vallan Aurinko !
Pahuus Ja Viha starting slowly, continues much denser and so much saturated, stubbornly and sticky viscous inspiration with daring sound. Then vocals changes in the chorus from harsh to clean, inspiring and exalting dreamy mood in transcendental distances.
Cheerfully and dreamy creates good mood, while dancing and playing Ruumiinvalvojaiset moves the entire duration of its road to unknown charms.
Hovering in the frosty blizzard winds, Varjoihmiset whirls with the guitar passages around tough and powerful vocal phrases, later transformed in dreamy clean chants.
Mariaanien hauta connects diligence, good mood and stiffness tense expectation. The guitar riff of main motif hovers over the other, like a free wind in the sky.
Dense and powerful riffs of Verta, Luuta Ja Lihaa stubbornly lured into its captivity, viscous and stringy wrapping to non-volatile atmosphere of ordinariness.
Quickly and hastily guitars begin to appeal Viinamaki to immediate action, not allowing hesitate even for a second. Fury, rage and anger inspires vocals to the severity and intensity, but the chorus is short phrase dreamy melody is moving away from this rage.
After a brief introduction on the organ, the sublime and dreamy Vainoharha persistently and stubbornly holds its rules on dethroning its confident way, drops down all that interferes.
Oriental melodies combined with northerly winds, bringing on the wings of Syot, Juot Ja Kuolet Pois to the northern lights in the desert, the sand is covered with snow and frost bounds sand grains into a single surface.
Leisurely walks Kaiken Valtias, persistently moving ahead on a clear straight line. But it does not change the direction - there's nothing to blame for it.
Hard riffs floating side by side Maanalaiset, stubbornly and persistently swirls around brooding vocal phrases. But then vocals becomes much tougher transfors from dreamy clean into a fierce harsh. Then clean vocals returns and sublime guitar passages from afar came the only just like shades.
The title track Vieraan Vallan Aurinko completes and crowns this artwork, unites together into an integral image the alarming vocal passages, dense viscous predictable guitar moves, sublime keyboards passages that uprises us beneath the sky and dreamy marvelous chorus.