March 19, 2020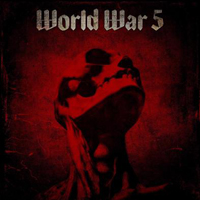 The swift drive of musical passages carries vocal phrases behind the race of their variations, sometimes slowing down and raising the Grind vocals phrases to the podium of musical greatness. The harsh stiff and stubborn whirlwinds of the twilight passages of the guitar solo envelops the Retrograde vocals phrases with a round dance of twilight sacrament, but then returning to the World War 5 - World War 5 album's unbridled drive. Then the rhythmic structure diversifies its transformations again and again.
The rhythmic pulsations of musical variations combines fierce power and progressive artistry into the Expose sound. Combining the shades of sophisticated inspiration in the introduction and chorus Terrors accelerates in the rapid jerks of instrumental bridges and introduces a pulsating swiftness in jerky verses. Broken impatience ends with an explosion of vocal rage entwined with swirling swirls of musical drive, raising the chalice of melodic charm in the Haunt chorus. It should be noted that this combination was very impressive for the author of the article!
The solo bass guitar is preceded by the waves of the Megalomaniacs rhythmic march, sometimes exploding with blades of rampant drive instrumental implementations. Gee chases in an unbridled assault on a furious action movie, competing with the swiftness of vocal phrases and musical drive, but then the guitar solo pacifies the pace with melodic charm.
The drum roll and the musical passages of the Bitterness intro weaves a bewitching lace of progressive artistry, the vocal part continues the music with a mid-tempo anthem, exalting the triumph of progressive musical ideas. Transformations of the rhythmic structure and musical narration carry away the meaningfulness and unexpectedness of compositional decisions. After a mid-tempo mystery of the introduction, Increased explodes with a stream of vocal anger, then introducing the epic narrative. It should be noted that in this album the successive increase in the impression of the tracks is very successfully embodied!