February 09, 2018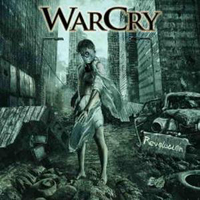 The rusty, squeaky distorted sound of La Ultima Esperanza intro is transformed into an exciting, fascinating main theme, a charming and marvelously starting Warcry - Revolucion album with such an epic motif.
El Cazador epic entering for further gatherings, the troops rapidly take off and are carried away by the glittering procession to valiant victories in the upcoming battles.
A thoughtful, alarmed and cautious musical motive in verses is hovering in a gloomy haze, rising in a chorus to the divine light in the bright and exciting lyrics of the Nada Como Tu choruses.
La Carta Del Adios is bringing in the musical ideas the breath of medieval romanticism, as if the wandering bard sings his trials and travels.
The epic symphony begins Invierno En Mi Corazon regally and majestically, then the draping drive begins a romantic ballad, alternating with meditations in the discussions of the calling lord and the answering followers.
Coraje continues the romantic atmosphere with an even more lyrical ballad, pondering the surrounding reality in a calm and sensual manner.
Lyrical romance continues in La Prision Invisible song, in which the music is approaching the average tempo, the rhythm is denser and over the gloomy guitar riffs as if invisible clouds are reflected by keyboards passages and dreamy vocal phrases.
Sensuality continues to appeal to unforgettable emotions, lyrically and thoughtfully reflecting on the experience and the future in another romantic ballad La Vida En Un Beso.
In El Camino music, instrumental delicacies somewhat compact and saturate the musical canvas, vocal phrases emotionally and meaningfully pave the way on the foundation of the rhythm and guitars, enveloped in majestic keyboards clouds.
After the lyricism and romance, Absurda Falsedad is couraging in the intro, but with the entering vocals song returns to dreamy reflections, returning to the motives for joining the choruses and instrumental bridges.
The proud main motive Devorando El Corazon glorifies incredibly legendary valor, pensively meditating in verses and rising in the splendor of triumph in choruses.
The most severe and harsh composition Abismo completes the album with a wave of gloomy drive, moving from sublime romance to a wave of vigorous, tough and dense power with the thrash metal shades.