October 29, 2019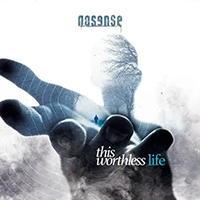 The Nosense - This Worthless Life album begins with its title track consisting of four parts embodying the main essence of his musical ideas. First, instrumental symphony This Worthless Life: Calm, enveloping in an atmosphere of hidden sadness, doubts about future changes and unclear trends of despair, serving as the introduction to the This Worthless Life: Anger next composition, in which the motive laid down in the previous instrumental symphony is complemented by vocal despair, with saddened emotions of clean vocals in the foreground, complemented by a ghostly, wordless background growling. Then, preserving the album's leitmotif, This Worthless Life: Introspection slows down a little, turning the narrative into a depressed saddened anthem of despair, complementing the atmosphere with the romantic thoughtfulness of instrumental bridges with the twilight charm of guitar solos.
Vocal introduces the title of the Welcome To My World song with an introduction, emphasizing it again and again, the musical passages are wrapped in swirls of ghostly twilight, growling remains in the background, repeating phrases of soloing clean vocals. A clatter of typewriter keys, a creak of a chair and a shot that apparently means suicide are preceding the musical passages of the Old Sad Man composition, a leisurely marching saddened atmosphere of a funeral procession topped with veils of memories. The vocal part combines two clean vocals complementing each other in a mesmerizing alternation. Slowly and pensively developing the essence of the main motive, The Storm song prepares for the introduction of vocals, in the chorus rising up the flying banners of despair and sadness. An inspirational waltz of gloomy ghosts weaves the lace of the musical image of the The Wrong Story composition, enveloping vocals reflections with the covers of a saddened romance. In the vocal part, background growling returns.
The final part of the title composition This Worthless Life: Redemption completes its quadrology and the whole album, returning to the leitmotif of the album and marching in a leisurely procession of the gloomy anthem, leaving behind the decay of hopes and expectations.