April 02, 2020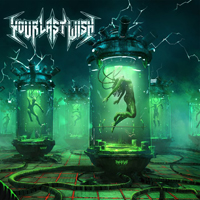 The title track begins the Your Last Wish - Eradicate album with a thoughtful mystery of the introduction, introducing some echoes of sad notes, but then the vocals introduce a furious drive, weaving a bewitching lace with melodious tunes of musical passages. The guitar solo introduction of the Exile song continues the musical narration with an incredible stream of artistry, but then the angry tunes of the vocals complement the composition with furious tunes.
Inspirational artistry of musical greatness weaves a bewitching lace of the Monarque musical passages, but then vocal rage supplements this charm with anger and fury. Some notes of oriental folklore bring shades of mystery and epic narration, but then the Decime music and vocals are intertwined in an exciting dance of deadly power. The gloomy haze of the Lost epic anthem envelops the vocal part with shades of grandeur, inspiring a romantic mood and a deeper perception of experiences. This is wonderfully complemented by guitar solos of instrumental fragments. Pursuit continues the furious drive of the final fragment of the previous song, weaving the mesmerizing buzz of a guitar solo with an explosion of fury in a fierce vocal part.
The mysterious chime of guitar strings complements the Pandore bass guitar's solo, then exploding with a furious solo, incredibly intertwined with the unity of the vocal duet in the composition, to which such musical decisions give a progressive style. A furious musical thriller Prestige, however, combining mesmerizing melody and progressive transformations of rhythm precedes the end of the album, continuing the similar style of unity of rage, power and artistry in the final composition Le Cri Du Monde of the album.