May 24, 2018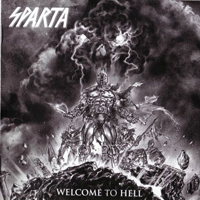 The warlord calls to his soldiers the question - what do the Spartans prefer? The title track starts Sparta (GBR) - Welcome To Hell album, pensively developing its fairy tale in the obscure fog of mysterious musical passages.
Intriguing the mysterious whirlwinds of the introduction, moving aside the tale Angel Of Death continues the album, accentuating the name in dark hymns again and again, prefacing the choruses with a melodic guitar solo.
Mysterious doubts are formed in mysterious Time song's vocal phrases, shrouded in a haze of ghostly musical motifs that do not solve riddles, but are asking more and more others.
Marching detachments, Soldier Of Fortune meditates on the trampling of soldiers' boots and the acoustic chime of strings, then clothed their story in a more energetic musical armor, ascending in a chorus on the wings of a dreamy ballad.
Mysterious musical passages weave an intriguing lace of dark temptation, vocals call playful phrases into the Wild Night spaces where unimaginable entertainment and fun are available in other conditions.
The siren's howl points to the surrounding danger, calling for attention and focus on one's own safety, music wholly relying on the Dreaming Of Evil basic motif fully supports these directions.
Starting with a drum roll building the axis of the musical narrative, threading the spiral of development of other musical motifs, flying like Arrow away into unknown distances. Continuing rock'n'roll rebellion Rock'n'Roll Rebel turns to sources of inspiration, buzzing like a swarm of disgruntled insects, the guitar breaks underscore the restlessness of rebellious mood.
Starting with the romantic reflections of a leisurely ballad Kingdom Of The Sky again and again returns to this style, from time to time exploding streams of mid-tempo drive.
Unrestrained fun and frenzied dancing circling in uncontrollable dances encourages Death To Disco, there's no any other way - dancing to death, bringing death and devastation to local discos. A sort of playful completion of the album causes smiles.