January 07, 2020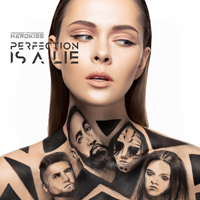 Inspirational thoughtfulness of the Organ vocal part opens the gates of the The Hardkiss - Perfection Is A Lie album, full of the charm of vocal phrases. Entering the pulses of telephone dialing Tony, Talk! complements the sound of the album with electronic music and futuristic romance. Facilitating the sound of music the Doctor Thomases song brings the listener to the expanses of the musical style of the 80s.
Enveloping vocal phrases with bewitching covers of romanticism, Rain captivates with the sound of an atmospheric ballad that weaves musical lace from several styles. Helpless continues the ballad atmosphere, enveloping with the tides of the saddened tunes.
Returning to the expanses of electronic tunes, Антарктида transforms the lyrics of the composition into Ukrainian-language and brings some shades of neo-folk music. Continuing the influence of folklore hues, A2 becomes partly-title composition's intro with wordless tunes, then Perfection condenses and hardens the sound, introducing a progressive fracture into the rhythmic structure.
Expanding the stylistic framework of album Closer brings the rhythmic influence of industrial drive, keeping it on the verge of partial participation. But Pibip develops the rhythm of the drive and increases the influence of the industrial component, among other things, somewhat captivating with guitar solos and keyboard passages. Hammer completes the design of industrial participation in the musical image, setting the most dense, hard rhythmic drive. After that, the Altair ends the album with an epic romance, as if the elven princess sings of forgotten tales.