January 27, 2018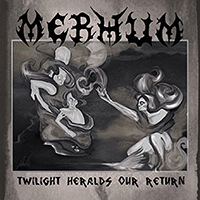 Cries of suffering with the noise of Rains Upon Blighted Soil and restrained guitar thoughts on the background set the beginning of the Merhum - Twilight Heralds Our Return album, fueling emotions and empathy.
In the gloomy A Black Haze Grim fog of mysterious musical motifs vocal phrases intertwines, combining screaming and growling styles.
Mysterious instrumental intriguing Mazinin Hayaletleri intro with an obscure cryptic haze creates a certain basis, the basis for screaming and groening disputes, putting their ideas above competing in meaning and significance.
The pulsating shadowfiend's breath As Adzan Resonates From Afar conjures its musical images with bewitching paths of gloomy ghosts. Then the vocal variety of the alternating styles and shades complements the dark charm of the sinister musical romance.
A mysterious T.H.O.R. march alternates with a confident and severe growling with its complementary screaking, blasting away the chosen path. Vocal shades so brightly complement each other that they clearly dominate, as if creating a separate composition.
The pre-dawn twilight envelops the shawl of the mysterious instrumental ballad Epiphany Of Cruel Lullabiles, giving mystery and ambiguity to Loath Rituals In Malevolence intro, in which the mysterious phrases of clean baritone vocals are thoughtfully intrigued before the broken continuation of the composition. Then the discussion of screaming and growling is set together with the thoughtful phrases of clean vocals, which are set differently by the shades of the musical image.
Thinking and evaluating the directions for the Iron Runs Thru Our Veins introduction, the vocals raise an incredible compaction of the musical picture, then arguing and drawing all the components to their side - then agreeing to put the composition together in a grim gloomy drive.
The melodious extravaganza of the Iblis-I Bed-Siyah introduction takes the composition to a slightly different style, swiftly and vigorously sweeping the music in a dark enchanting vortex. But the composition ends with a thoughtful instrumental motif. This fascination prepares for the instrumental saga Heretics In Arms that completes the whole album as if rushing through the obscure twilight to the castles in the clouds.