April 01, 2019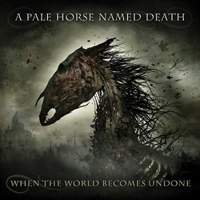 The fascinating As It Begins sacrament of church melodies, crying and gnashing of demonic sighs crowned with a bell ringing and begins the A Pale Horse Named Death - When The World Becomes Undone album, anticipating the When The World Becomes Undone song, full of mysterious romanticism at the beginning, but then rolling convulsive power of impetuous drive, developing a viscous romance into a more powerful and various song with a convulsive power of unrestrained drive.
A pulsating mid-tempo sound envelops the Love The Ones You Hate psychedelic vocal reflections in a viscous and fascinating atmosphere.
The obscure, gloomy Fell In My Hole musical trends entangle the mind in the bonds of invisible anticipation and unconscious expectations.
Succumbing To The Event Horizon muffled chirp of cicadas and the brooding symphony entwined with oriental motifs continues the musical album's narration. Onsolidating and tightening the musical sound, Vultures vocals reflections recedes into the background, rising in emotional outbursts and reflecting the main motive's distinct essence.
Recreating the dark essence of obscure predictions End Of Days envelops muffled vocal reflections in the dark atmosphere of gothic omens, in the chorus the vocals come to the forefront of the composition.
Moving along the chosen path throug The Woods, the wanderer finds himself among a mystical ritual. Unclear negotiations and admonitions by the announcer anticipate the development of the We All Break Down composition, majestically and significantly rolling the canvas of its main motive.
Unclear darkness precedes the dark romance of Lay With The Wicked vocal narration, shrouded in the gloomy haze of musical trends.
The Splinters vocal phrases roll out their sad story, the musical passages from time to time stiffen the story, making it stronger and more severe. A somewhat diverse combination of the album's typical sadness and musical drive Dreams Of The End brings epic tones to the musical narration, putting the vocal narration to the compositional background, occasionally bringing it back to the foreground. The album's Closure outro sounds very similar to intro, however, it complements it with a fascinating saddened symphony with some blues notes.