July 25, 2017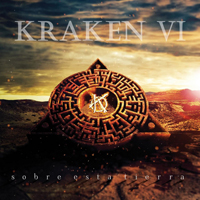 Starting with a solo bass guitar, the title track of Kraken (Col) - Kraken VI: Sobre Esta Tierra album reveals both swiftness and melody. Emotional parts of vocals are painted with vivid shades, keyboards passages gives fantasticity, guitars unites these splashes and impulses into the single musical image. In the instrumental part, the guitars alternates with keyboard breaks in improvisations.
After the sensual emotionality of the vocal and instrumental passages, Flores De Trebol refers to some cosmic militancy - as if a crowd of inspired heroes in the pursuit of justice appeal to all the possibilities and means. The instrumental parts are very interesting, the vocals in the middle of the composition refer to the harsh. In this militant and diverse atmosphere, the composition reaches the part in which it refers to romance and lyrics, combining sensual bass, melodic guitar and emotional vocals together. But the battle drive returns to the cutting edge, sweeping away the remaining enemies.
Starting with so soft, gentle melody of No Importa Que Mientas takes us to the romantic spaces of feelings and emotions. Vocal touches all strings of nerves, music thicks and denses veil of reverie that envelops the sound of this lyrical ballad.
In the introduction, the gloomy fog of anxious emotions envelops the brooding atmosphere, then the ballad Hojarascas raises the musical banner higher, but returns to the alarming gloomy fog.
After a calm, sensual ballad, Hazte A Un Lado raises a wave of drive to the previous level with a militant march, enveloped in keyboards passages, breaking into a swift and furious sound. Over the battle group, marching in anticipation of the battle, the prideful banners of the keyboards hovers.
A hard, clear rhythm accompanies the oriental motifs pierced by the spicy hot desert winds in the entrance of Sueno Libetrario, then the music in clear and rapid verses brings the velvet of these spicy waves to the thoughtful reflections of the chorus rising among the swirling swirling winds around.
Clearly, confidently and leisurely, Resiste declares the indestructibility of its ranks, the ability to resist any enemies. The vocal becomes sterner, more confident and more bitter. Dreams, imaginary reality and inspiring dreams appear in the sound of the ballad Noches Bohemias brightly, tempting and exciting. The darkness of these nights seduces and carries with its sensual and inspiring experiences, creating from the thoughts and experiences unique and unique images. The last album's song La Barca De Los Locos begins with such an interesting solo that it would be worthy to become an instrumental outro. But no, the music develops into the very diverse composition, in which keyboards, guitars and vocals do not argue and interfere with each other", on the contrary - they makes so bright, captivating and memorable composition ... if it completes the concert, the audience will shout "Anchor! Anchor!"