August 02, 2020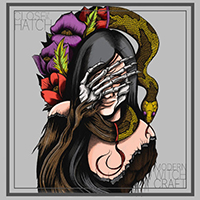 The unhurried reflections of the Death Of Wolves saddened vocals mysteriously walk among the viscous gloom of musical passages, beginning the Close the Hatch - Modern Witchcraft (EP) album's narration with a leisurely procession of a sad atmosphere. The Hedge Rider continues a similar sound, weaving a guitar solo in a leisurely round dance with vocal phrases, complementing this unity with a chime of tambourine.
The title composition Modern Witchcraft expands the stylistic framework, complementing the music with shades of romanticism, bringing the echoes of the blues into the sound of the ballad. Bringing bass guitars part into the Attunement foreground, then music envelops the twilight majesty of a dark anthem. A mysterious whisper of vocal reflections walks in the dominant role of the Cordial Medusa saddened romance.
The Thorazine Empire song transforms the music with echoes of memories of wanderings and impressions of the adventures passed, then the Persona Non Grata sounds like an epic saga, bringing mystical echoes of forgotten legends to the sound of the album. The Exit Anxiety finishes the album by enveloping brooding vocal reflections in a haze of ghostly expectations and obscure guesses.